We auctioneers love our phones. We like fast phones with great cameras. Some of us consider our phones to be fashion statements. I was excited when my friends at Verizon gave me the opportunity to play with the Samsung Galaxy S6 edge+ for a few weeks. I wanted to see if this it could be both stylish in a unique way as well as powerful.

Let's get one thing out of the way. The edge display is a gimmick. But it's a really cool gimmick. Not only do the edges of the screen curve, the software allows it to display content like the time or a sports ticker while the main screen is off. It's not as functional in my opinion as the secondary screen on the LG V10, but it's neat nonetheless. I took the edge+ to a couple different auctioneer conventions and was frequently asked about it, with comments ranging from how thin the phone is to how slick the curved screen looks.
The glass back and metal edges make the S6 edge+ feel like the premium phone that it is. It takes most of its design cues from the Galaxy S6, which I reviewed last spring, which is smaller and lacks the curved edges on the display. It has the same camera and internals, but boasts an extra gigabyte of memory. It's remarkably fast and I couldn't find any instance of lag or a time when I wished it were faster.
Like the S6, the S6 edge+ has a fast and accurate fingerprint reader and a stunning camera that's both extremely fast and feature rich. I'll post some pictures I took with the S6 edge+ at the end of this article. I found myself taking more pictures with this phone than I normally do. I honestly think that it was because the camera is so much faster that I didn't mind using it more.
I prefer to stream auctioneer competitions to YouTube when I have my computer, but I've been forced to use UStream at the Kansas State Fair since YouTube doesn't support streaming from phones. The camera on the S6 edge+ actually does support streaming directly to YouTube, which could lead to a much better experience watching our state auctioneer championship this fall.
I was very surprised with the battery life on the S6 edge+. The original S6 had atrocious battery life. The S6 edge+ does have a slightly bigger battery, but I assumed that it wouldn't hold up to the big, beautiful screen. I was wrong. The battery life seemed on par with my Nexus 6, lasting the better part of a work day. While the S6 edge+ unfortunately doesn't have a removable battery, Samsung did include both quick charging and wireless charging, so at least it's convenient to charge and can be charged in a hurry when necessary.
The S6 edge+ is a great all-around device, pairing quickly and easily to my Zenwatch and LG Tone headset army and various other devices. Nolan sure enjoyed playing with Verizon's Star Wars Cardboard viewer that they sent us to play with ahead of the release of the new film.
While there are many reasons to love the S6 edge+, there are some things that Samsung could do to make me love it even more. I'm actually not a fan of the glass back, which becomes a fingerprint magnet. It's not really an issue, however, because there's no way I could use this phone without a case. It's simply too thin. It's so thin that it's actually not easy for me to pick it up when it's laying flat on the table – I found myself looking for things to lean the phone up against so it would be easy to pick up. I ordered a $9 belt clip case from Amazon, and while I was waiting on it I printed one from Thingiverse. Putting a case on the phone is undesirable because it takes away from the beauty of the edges and actually makes it harder to type on the keys at the edges of the screen.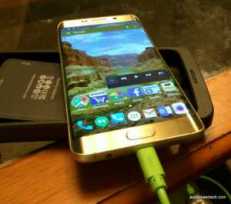 Samsung is known for installing extra software and apps, and they did again with the S6 edge+. Luckily, these apps are fairly easy to disable. Unfortunately, there isn't an easy way to fix the physical buttons, which are switched from every other modern Android device. The biggest single improvement Samsung could make would be to simply remove the physical buttons like other phones.
Backwards physical buttons and the extra software notwithstanding, the Samsung Galaxy S6 edge+ is an absolutely beautiful piece of hardware. While the edge display probably isn't my cup of tea, the phone is an excellent choice for anyone who wants to make a stylistic statement without compromising on features.
Here's the photo gallery – as usual, I've made no edits to these photos. They're straight off the camera.