Update 2019: I'm currently loving the Amazfit Bip which has killer features and battery life for an amazing price. However, it doesn't run Wear OS, which is disappointing. Hopefully new Wear watches come soon with better battery and lower prices. If you'd like to learn more about modern Wear offerings, check out the Android Smart Watch: The Ultimate Guide from Joy of Android.
I've been an Android Wear enthusiast for over a year now. I ordered the Samsung Gear Live when it was announced and shortly thereafter upgraded to the ASUS ZenWatch. Both of those watches are rectangular, and I never had the opportunity to use a round Wear device – until now. My friends at Verizon let me spend the last several weeks with the LG Watch Urbane. While the specs are very similar to my ZenWatch, it's clear that the Urbane is designed with an emphasis on style.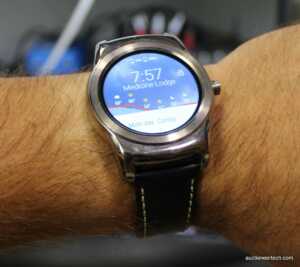 Android Wear works better on rectangular devices; there's no way around that. While a round watch is best for displaying an analog watch face, every other use I can imagine involves interacting with text or images. These interactions are inherently less efficient if the image or text is reduced in size or cropped to fit a round display.
Unlike rectangular Wear watches, however, the Urbane doesn't make me feel like I'm that guy wearing a calculator watch. It gets noticed as a watch first and a computer accessory second. It also has a completely round display, unlike LG's competition in the round Android Wear arena, the Motorola 360, which has a notch out of the bottom of the screen that's commonly referred to as a flat tire.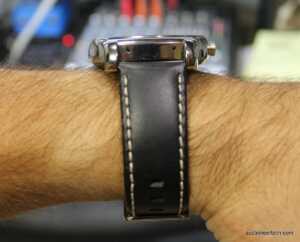 Android Wear performs great on the Urbane. Interactions are snappy and it's great to be able to delete emails and dismiss other messages without having to take out my phone. The button on the side brings up the launcher, allowing a quick way to launch common or recently used Wear apps.
The stitched leather strap that came with my silver Urbane demo watch looked nice but seemed somewhat difficult to latch and unlatch. Perhaps that's something that would break in over time, but the Urbane supports standard 22mm straps for easy and inexpensive customization.
The charger on the Urbane is much better designed than the Wear watches I've owned in the past. Other watches utilize a clip-on charging cradle that can break or be arduous to attach every night. The Urbane has a dock that weighs enough to sit on a table and stay put when you lay the watch on top of it at night and remove it in the morning.
The Urbane is a little thicker than I like, and I'm not sold on the round shape as the most efficient display for day-to-day functionality. However, if I wanted a fashion accessory that was also a smartwatch, it'd be difficult to imagine a more stylish way to carry Android Wear. The LG Watch Urbane is a really good looking round watch that runs Android Wear very well.