You're listening to the AuctioneerTech Auction Podcast for the week of 22 September 2008.
AuctioneerTech – Technology, auctions and auctioneers – auction tech for the auction industry
Hello and welcome to the fourth episode of the AuctioneerTech Auction Podcast. In this episode, we're going to discuss a way to effectively and appropriately handle mass email lists using a product called phpList.
One of the best marketing techniques for auctioneers and everyone else who is running a business is proper management of an email list. Keeping a list of emails in Excel and copying that list into the BCC field of Outlook does NOT count.
There are rules put in place due to the proliferation of spam. The CAN-SPAM Act has a couple of take-aways.
1. You can't spoof the from address
2. You can't use misleading subject lines
3. You must identify your email as a solicitation
4. You have to provide a means of opt-out
Every opportunity should be taken to capture customers' or prospective customers' email addresses at every point of contact.
Every time you register someone at an auction, you should have a form on the part of the bid card that you keep that asks him/her for an email address with a check box to opt in to your email list. Every contract you sign with a seller should have a line for email address. You never know when the person who signs up to sell coins will be the person who sees the email about the real estate you're selling. Always send your emails to everyone on your list. Segmenting your list into coins, real estate, or antiques only means that you're not exposing your merchandise to as many prospective buyers as possible.
Every web page should have either a subscription form or a link to a page where the customer can subscribe. I'm an advocate of placing the subscription form directly on the front page of your site. It's not more important than your auction list – which is why people come to your site – but there's usually a way to put a small form on the sidebar or in the header.
What happens when the user clicks submit? The easiest system to build is simply a form that emails you the contents of the user's input. This system requires manual storage of the addresses. Remember the four take-aways from the CAN-SPAM Act? Providing an opt-out means allowing the user to remove himself/herself from your email list. If you store your email list in a spreadsheet and someone requests an opt-out, you go and remove that entry. Should that person's name be added again by accident, you could get into some trouble by sending that person email after the opt-out has been requested.
A far better solution is for that email subscription form submission to store the email address, name and whatever other fields you require in a database. That way, everything is automated and when someone requests to opt-out, the entry is flagged as unsubscribed but not deleted. This feature prevents the user from being resubscribed by accident in the future. This system is much more difficult, and would require several hours to build the storage system, to say nothing of the time required to build a system to automate the sending of the emails.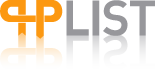 This is where the open source and free phpList comes to the rescue. It's a web script that runs on your server once it's installed and manages all of the above issues for you. It's as easy to use as any desktop application, but it's web-based so you don't have any software to install on your computer. The contributers to the phpList project will even install it for you if you don't have a geek who can take the three minutes to install it or if you don't have a hosting provider that automates the process. You can also send a bulk message from anywhere and from any device. Driving to the auction and forgot to send the bulk email? No worries. Send it from your cell phone.
Once the software is installed, you simply login with your user name and password like you'd login to your webmail. You can manage lists, upload email addresses, export your list – anything you can think of they've included. You can view a live demo to see what it looks like and explore all the features it offers at www.phplist.com.
Other products frequently used by auctioneers include AuctionServices's IBEAM as well as ConstantContact. Neither service is free and neither runs on your own server. If you're hosted by AuctionServices or if you don't have the ability to let someone install a program on your server, one of these options may be a better choice for your situation than phpList.
phpList is the most robust and feature rich email package I've seen. It offers complete subscription and unsubscription page customization, unlimited lists, unlimited sizes, HTML or text emails – all for the cost of having someone spend a few minutes to install the script.
That's it for episode four. Do you use something other than the products mentioned above? Have you had problems with phpList? Have you figured out how to scale Outlook or another email client so that it's effective above 100 emails? Let me know in the comments for this episode on auctioneertech.com. Next episode, we'll cover PDFs – what they are, when they're appropriate, and how to make and use them faster, easier and cheaper than by using Adobe products.
You've been listening to the Auction Podcast from AuctioneerTech. If you have suggestions, questions or comments, or are interested in being a guest, please let me know by going to https://auctioneertech.com/feedback and leaving a message. You can also post public comments about this or any other episode, as well as find show transcrip s, on the auction podcast page of auctioneertech.com.
Thank you for listening. Now go sell something.

Podcast: Play in new window | Download