Standing desks are all the rage. I recently acquired a 30″ Apple Cinema Display and a couple of Yamaha near field monitors from the auction, so I figured now is my opportunity to overhaul my workspace and try a standing desk. Here's how I approached the project.
Here's my original sit-down workspace that was the starting point.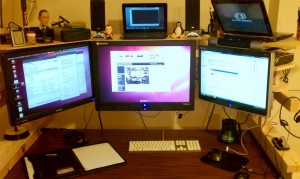 I began by building a frame from 2×4 studs.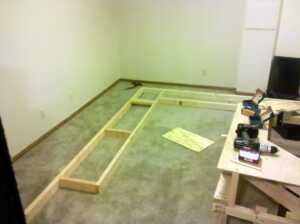 Next, I put it on legs.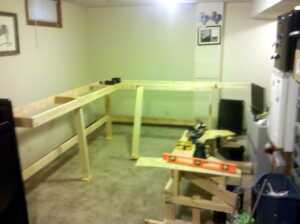 The top was built from two 4′ x 8′ sheets, one of plywood and the other of a thin, pressed, composite wood that would serve as a finished surface.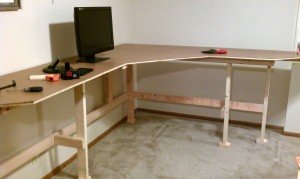 I wanted a shelf about 18″ high for the battery backup, computer, printer and additional storage.
Once the structure's base was complete, I put the monitors in place to measure for the rear supports.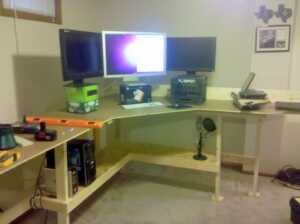 With the two side computer monitors mounted, and while I waited on the special adapter to mount the Apple display, I built shelves to support the quite-heavy near field Yamaha monitors on the right and left, and added a top shelf on the right to support my HP tablet dock.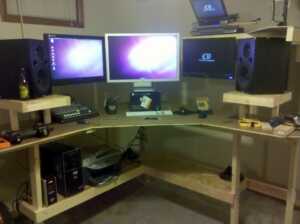 The final touch was adding the top shelf on the left.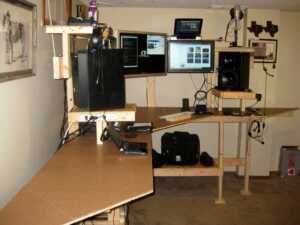 Here's the view from the right.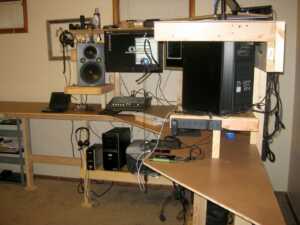 Here's the final project.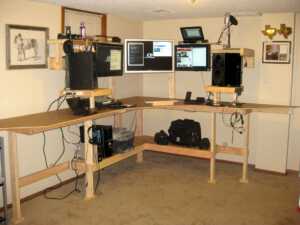 Someday I'd like to build some additional shelving on the left, but I get the feeling this project is something that'll never be considered complete. I've been standing for the last week or two, and have found an improvement in posture and it sure feels good.